Allow us to help you keep your siding looking immaculate.
You want your Champaign, Illinois home to look its absolute best, and we're here to make that happen at Excel Eco Clean. We're proud to offer highly effective siding cleaning that will keep your siding looking immaculate while protecting it from the damaging effects of algae, mold, mildew, and bacteria buildup.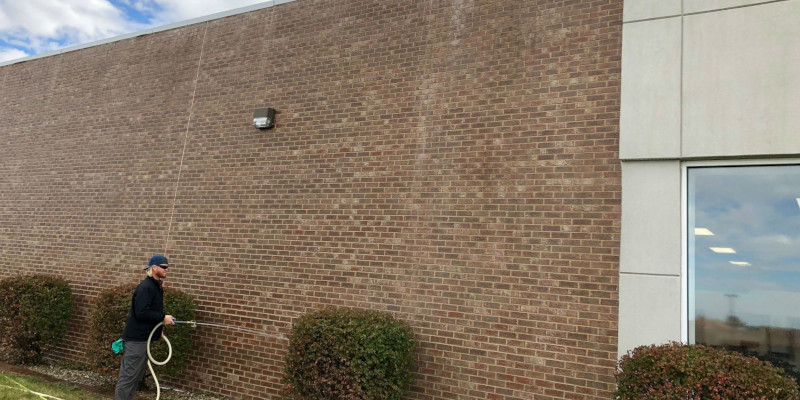 Our siding cleaning process involves soft washing, which is a gentle alternative to pressure washing. Where pressure washing exerts very high pressure to blast away dirt and contaminants, soft washing cleans your siding without risking damage. We carefully apply a solution of 100% biodegradable chemicals, which is designed to thoroughly sanitize your siding. It helps to loosen dirt and grime, wash away stains and discoloration, break down insect nests and webs, and kill organic contaminants.
Eliminating the organic buildup is perhaps most important, since the contaminants will grow back quickly otherwise. Soft washing keeps your siding clean 4 to 6 times longer than pressure washing and can totally transform its appearance.
If you have concerns about our chemicals damaging your landscaping or the environment, you can rest assured that we will take several precautions to prevent that. Our two-person system, in which one person waters your plants while the other cleans your siding, offers excellent protection. Keeping your plants hydrated means they won't be inclined to soak up our chemicals. And for good measure, we'll even apply a plant wash at the end to neutralize the chemicals.
Contact us today to schedule siding cleaning or ask us your questions.
---
At Excel Eco Clean, we offer siding cleaning services in Champaign, Charleston, Urbana, Mattoon, Arcola, Effingham, Neoga, Sullivan, Paris, Tuscola, Mahomet, Savoy, Monticello, Tolono, St. Joseph, and Rantoul, Illinois.