Enhance the look of your driveway.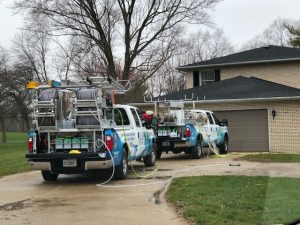 Driveway cleaning has many benefits that make your Champaign, Illinois property look better and help it last longer. Whether your driveway is made of concrete, asphalt, or another material, cleaning it regularly can make a big difference. At Excel Eco Clean, we have solutions to help your driveway look its best.
Here are a few benefits of driveway cleaning:
Improved Curb Appeal-When people come to your house, the entrance is the first thing they see. A clean and well-kept driveway instantly boosts your home's curb appeal, giving guests, possible buyers, or just people walking by an excellent first impression.
Preventing Weeds and Moss-Weeds, moss, and algae can grow on driveways, causing damage to the surface over time. Cleaning regularly helps eliminate these issues and keeps them from returning.
Surface Durability-Dirt, rocks, and organic matter can build up on your driveway. Over time, these things can cause cracks, damaging the surface. Our driveway cleaning surfaces help lower the risk of damage and increase your driveway's longevity.
Better Safety-A clean driveway makes it less likely that someone will slip, trip, or fall. Dirt, oil, and other substances can make surfaces slippery, especially when they are wet. Cleaning removes these dangers and makes the driveway safer for everyone, including young children and older family members.
These are just a few benefits that driveway cleaning can provide. If you're unsure about the last time your driveway was cleaned or if you plan to put your house on the market, our team can improve its appearance. With over 30 years of experience in the industry, we're the team to call in the Champaign area. Contact us today.